From humble beginnings on the back verandah of the family home, Alexander Perrie was founded in 1946 by George Perrie. Two years later he was joined by his brother Frank and they proudly named the company after their father.
They had a vision of building a fire fighting vehicle and equipment manufacturing company with the highest degree of quality, innovation, reliability and customer satisfaction.
Needing more space than the back verandah would allow, George's wife Doreen Perrie invested in the company and they were able to move the business to an old bus shed in Erskineville.
It didn't take long for them to outgrow the rundown bus shed, and so a block of land was bought in Rockdale, where the company remained and expanded for the next 67 years.
Brian and Michael Perrie, the sons of the founders, succeeded them and continued on their vision.
Through their design and manufacturing expertise, their leadership successfully ran the business for many years and laid the foundations for where the business is today.
In 1984 Alexander Perrie became an agent for Oy Bronto Skylift Finland, and were instrumental in bringing the first of many Bronto Skylift aerial appliances into Australia.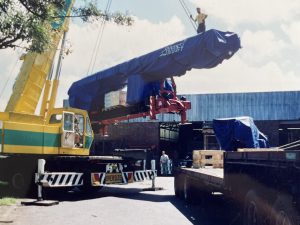 Upon Brian and Mike Perrie's retirements in 2015, the company was taken over by George and Doreen Perrie's granddaughter, Nicole Perrie.
Nicole moved the business to Kirrawee and successfully continues on with the legacy and vision of the family business.
Your can rely on us #alexanderperrie. Anything is possible.